If you have zero experience in menu design or lack budget for a professional designer, that's no reason to give up. It's 2021, after all.
You're in luck since the internet is packed with both paid and free online restaurant menu builders that can easily accomplish the work for you.
Check out our selection of the finest menu generators below! By the way, they are in no particular order.
#1: Canva®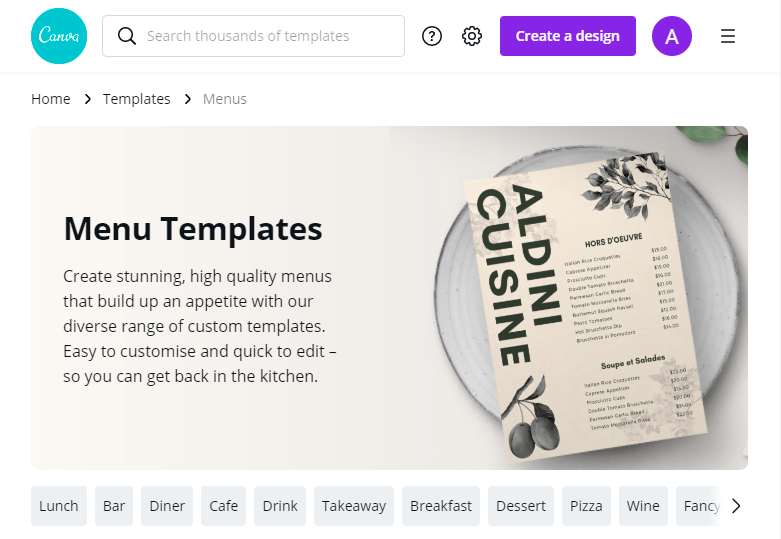 You may use any of the available menu templates or construct your own from scratch. Canva® lets you add/select graphics, layouts, fonts, icons, graphics, and other elements.
Canva® is an all-in-one design platform that makes it easy for users to create everything from restaurant menus to social media posts. Conveniently, they also offer an iPhone and iPad app that lets you create and update menus on the go.
To view the customizable menu templates on Canva®, click here: https://www.canva.com/menus/templates/
Benefits of using Canva®:
– Price: Free.
– Over 1,500 customizable menu templates and 130 different fonts.
– 5 step process to get to a print-ready menu from scratch.
– Access to over 1 million free stock photos.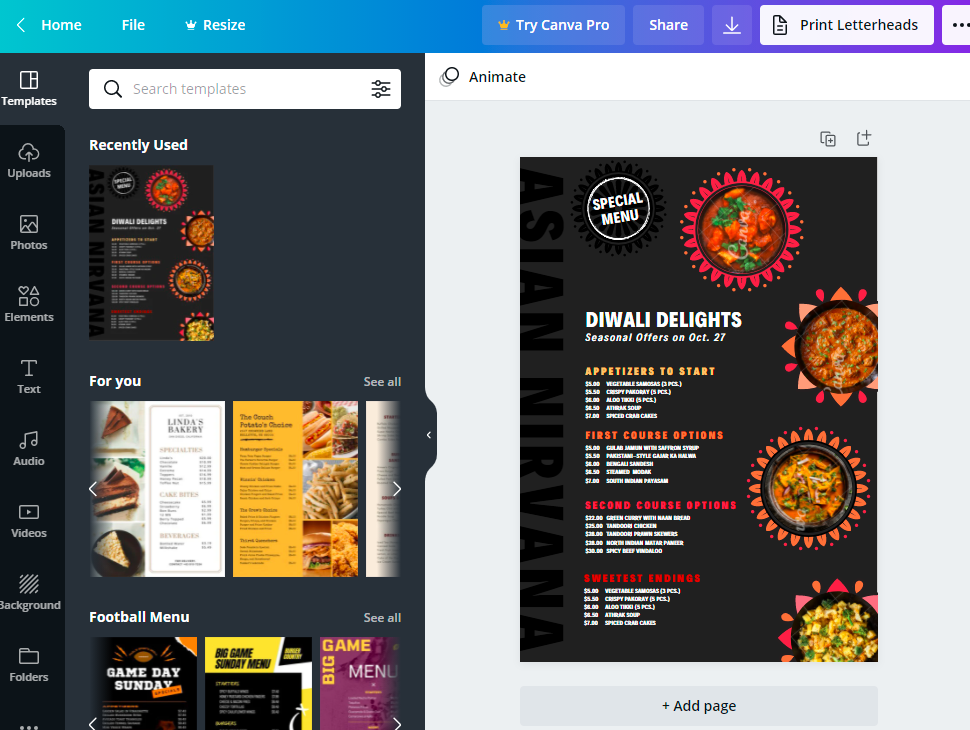 To make a menu in Canva®, follow these steps:
Sign up on the Canva® website, select "Create a Design".
Choose the "Menu" layout.
Select the preferred editable menu template from the Canva® library list.
Upload photos of food / beverage menus.
Arrange images, add attractive filters, and edit text.
Save and share.
Price: Generally, Canva® is free to use, but it also provides two subscription plans that allow users to create with unlimited access to premium tools and content, making professional design simple. The Pro plan costs RM449.90 per year, or RM37.49 per month. The Enterprise Plan costs RM125.00 per person per month.
#2: Adobe® Spark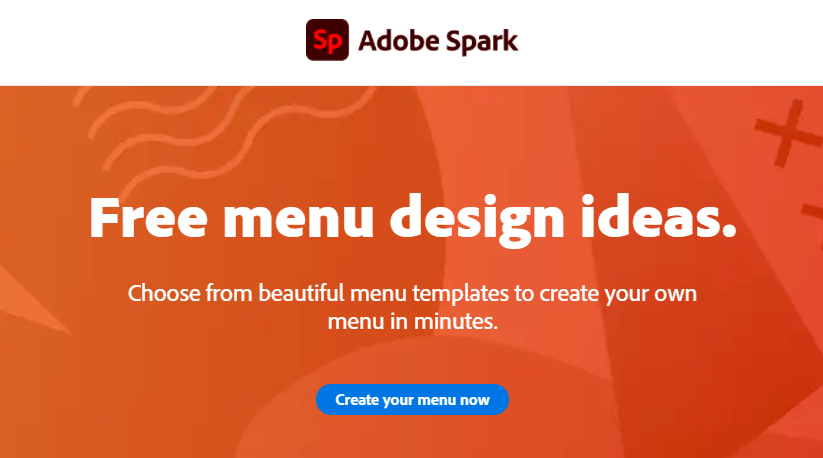 Adobe® Spark is a package of online and mobile app-based design software developed by Adobe with the goal of making it easier to generate free eye-catching content.
The free restaurant menu builder, which is part of the suite of applications, promises to help create professional and personalized menus in a matter of minutes with no design skills required.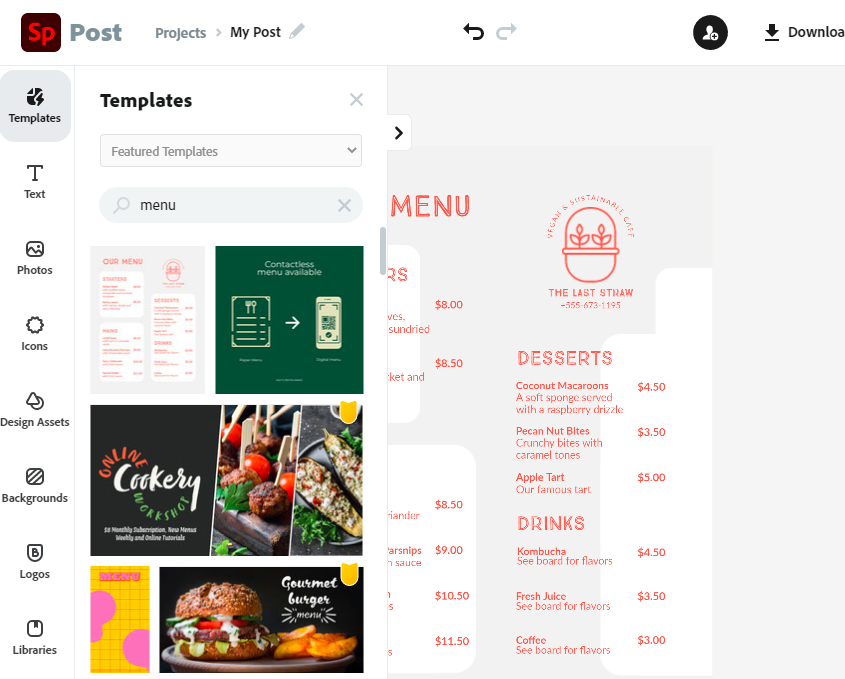 Adobe Spark is a popular option for more experienced graphic designers since its free plan includes more premium design features and a wider range of fonts and graphics. However, the software is also useful for less experienced designers who want to devote more time to their menus.
While Adobe's other digital products are well-known for their excellent quality and versatility, they are not well-known for their short learning curve.
The following are the steps to creating a menu in Adobe Spark:
Register as a member.
Click "Create a Menu Now."
Select the size and shape of the menu.
Select the theme.
If you want to insert an image for the background you can click "Background" and select "Replace photo."
Select the font you want, then start entering the menu name you like.
Once done, you can download it, save it, or share it.
Price: Adobe® Spark is free to use, removing the brand's watermark and adding your own branding requires a premium membership. Adobe® Spark's individual subscription is USD13.60 per month, while its Team plan is USD27.29 per month.
3: iMenuPro®
iMenuPro® is an online menu builder that allows restaurant owners and marketers to generate and print menus in seconds. The platform is entirely drag-and-drop, requiring no technical knowledge or the installation of any software locally.
iMenuPro® made the process of customizing and modifying simple and clean. Users can select a template from their extensive library, customize it, and download it in less than 10 minutes.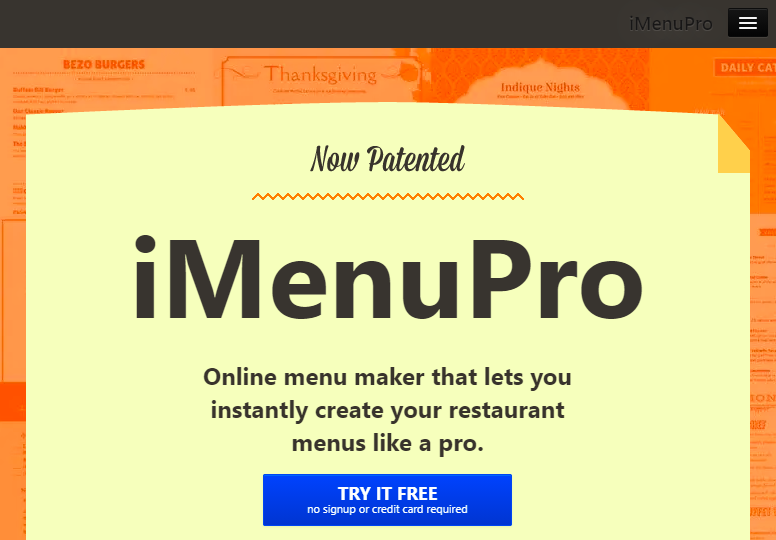 At first glance, iMenuPro® does not appear to be user-friendly. iMenuPro® is similar to MustHaveMenus®, but unlike Adobe® Spark and Canva®, it is created with menu design as its core function rather than as an afterthought add-on.
One of the site's distinguishing features is the ability to sync your menu from their website to yours without posting it as a downloadable PDF. This is achieved by embedding a little snippet of code, which also works with your social media accounts, and is useful for saving time.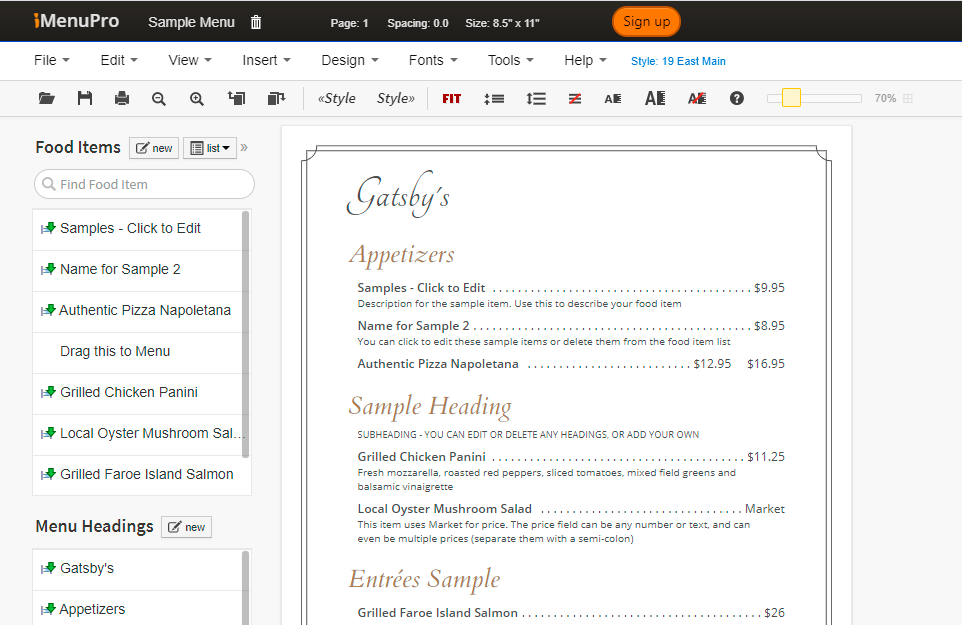 To create a menu in iMenuPro®, follow these steps:
Go to https://imenupro.com/.
Enter the list of names of your food and beverage menu in "Food Items."
Enter the number of menu types in the "Menu Headings", such as starters, main courses, and desserts.
Select the "Background" menu you like. You can set the font, background color, and background design to suit your taste.
Drag & Drop the list of menus you have typed on the background. Let iMenuPro® design the composition for you.
Click Save.
Price: USD15 per month for a subscription that drops to USD9.75 per month if you pay annually.
#4: MustHaveMenus
MustHaveMenus, founded in 2007, is a website dedicated completely to menu management. They cover everything from menu design to printing and delivery, as well as all the details in between.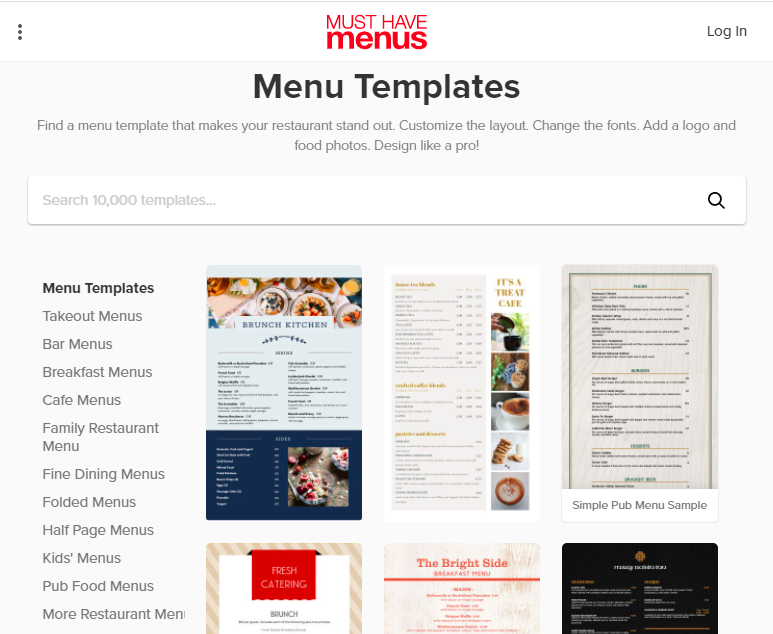 Follow these steps to create a menu in MustHaveMenu:
Select the menu template preferred
Click "Customize this menu."
Start entering the name of the menu you have.
When done, click save to save the menu result you created.
Price: Free unlimited access to a fully updated library of professional menus and marketing templates designed particularly for restaurants. The site offers its Pro Plan for USD276 per year, which includes high-resolution downloads, professional QR Code tools, watermark removal, folder organization, and other features.
There you go! Four useful online menu generators for you to explore.
Start designing your amazing menu today!
Share your menu design on social media by tagging us for a chance to be featured on Slurp!'s social media.